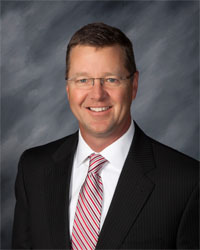 Stefan Freeman
President / Chief Executive Officer, Sartell
[email protected]
320.257.1950
{beginAccordion}
SBA Checklist
The following information is usually required during the loan process:
Personal & Business Federal Tax Returns – last 3 years with all supporting schedules (Required on all guarantors and/or all individuals who own 20% or more of the business)
If an existing business – Year-to-Date Balance sheet and Profit & Loss statement are required. (Must be dated within 90 days of application).
2-Year Projection of earnings – (required if less than 3 years of historical statements are available)
If any owner/borrower has a controlling interest in another business, 3 years of financial

information must be submitted on each affiliate entity.
A/R and A/P Aging Reports – at Banks discretion depending on use of proceeds and collateral offered
For Franchise purchase include Uniform Franchise Offering Circular (UFOC)
Purchase Agreement (applies only to acquisitions or real estate purchases)
Mortgage Checklist
The following information is usually required during the loan process:
Income
Paystubs (last 30 days)
W2's and 1099's (past two years)
Personal tax returns (past two years)
Business tax returns (past two years, if applicable)
Other income - award letters, annuity statements, etc.
Assets
Bank statements (most recent two months)
Retirement accounts or other sources of funds (most recent)
Other Documentation
Bankruptcy documents - all schedules
Divorce decree
Child support orders
Learn More
Our Mission
To redefine your banking experience by:
Delivering unsurpassed personal service and financial solutions
Ensuring a safe, sound, locally owned and managed financial institution to do business with
Being involved and supportive of economic growth and development in the community
Designing solutions for you based on an intimate knowledge of your specific business and personal financial objectives, consistently satisfying your demands for value
Testimonials
BankVista has supported my business from the beginning by financing the purchase of my practice and, most recently, providing an SBA loan to acquire equipment and supplies for my new, state of the art facility. They treat me like I treat my patients, with honesty, integrity, and your best interest at heart.
When looking for my practice loan, I compared BankVista to ten other banks in the area and not only did they give me the best interest rate and lowest fees, but they truly had the best customer service. I recommend Stefan Freeman, Dan Nygaard, and BankVista to everyone I know for their banking needs.
Thanks again for everything.
-Jason Huse, Owner Huse Orthodontics
{endAccordion}