Easily spend and track your expenses with a single card. Because the simplest way to pay is often the best.
Free Mastercard® debit card accepted around the globe and online DETAILS 3 Details NameDetails ContentParagraphTo open the popup, press Shift+EnterTo open the popup, press Shift+Enter Delete
Free with any BankVista business account
Reduce costs of purchasing checks
Simplify money management; cards are linked to one main account
Multiple cards can be issued
Pre-set employee limits as needed
Gain total control over your card with CardValet®
Works seamlessly with digital wallets like Apple Pay®, Samsung Pay®, and Google Pay
Eliminate cost of purchasing checks
24/7 access to funds via ATMs
Nationwide surcharge-free ATM usage via the MoneyPass® ATM Network
Easily protect your card if lost or stolen
Easily Manage Your Cards
CardValet® helps you control your busienss debit card through your mobile device, making it easy to set alerts and manage your finances on the go.
Security
Turn your cards on or off, in an instant, for any reason
Control
Control transactions by category or by dollar amounts
Flexibility
Easily set, customize and modify purchase alerts
Watch Video to Learn More or Take a Test Run in the Click Through Demo!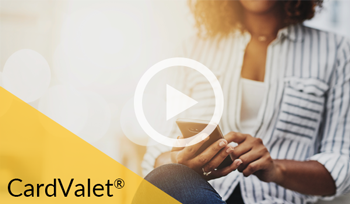 Dial 800-992-3808 to activate your card and select your PIN.
You will be prompted for the below information to active your card:
Last 4 of your SSN
Last 4 of your primary account number
Telephone number associates with your account
4 digit PIN, of your choosing, to associate with your card
Dial 800-992-3808 and follow the Change PIN prompts.
You will need your current PIN to process the change.
Questions? Contact us or call 877-415-0008.