Seamlessly and securely move money between accounts. Whether it's to a nearby vendor or a across the globe, it's simple.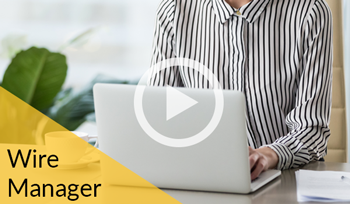 Review, approve and originate wire transfers from your Business Online homepage
Compatible with all major browsers – no software to download
Easy-to-use templates are provided, or create your own
Schedule recurring wire transfers, and future wires
Transfer funds from multiple accounts
View your wire transaction history
ABA routing look-up and validation
Quality control – no files are sent until they are prepared correctly
Real-time reporting with export capabilities
Domestic and international wire transfers in US Currency are available
For international wires in foreign currency please contact Electronic Services at [email protected] or 320-257-1959.
Learn More
Extensive new security and user-access controls
Assign permissions to each user for all aspects of wire origination, template activity, and approvals
Receive real-time alerts via email, or push notifications to our Mobile Business app
Set approvals for wire transfers and templates
Our free Mobile Business App lets you manage wire activity from anywhere:
Receive real-time alerts to monitor wire activity
Power to review and approve wire transfers remotely
Issue single wire transfers from your smartphone
View your wire history
Download the app and begin using it right away. Use the same token and log on credentials as Business Online